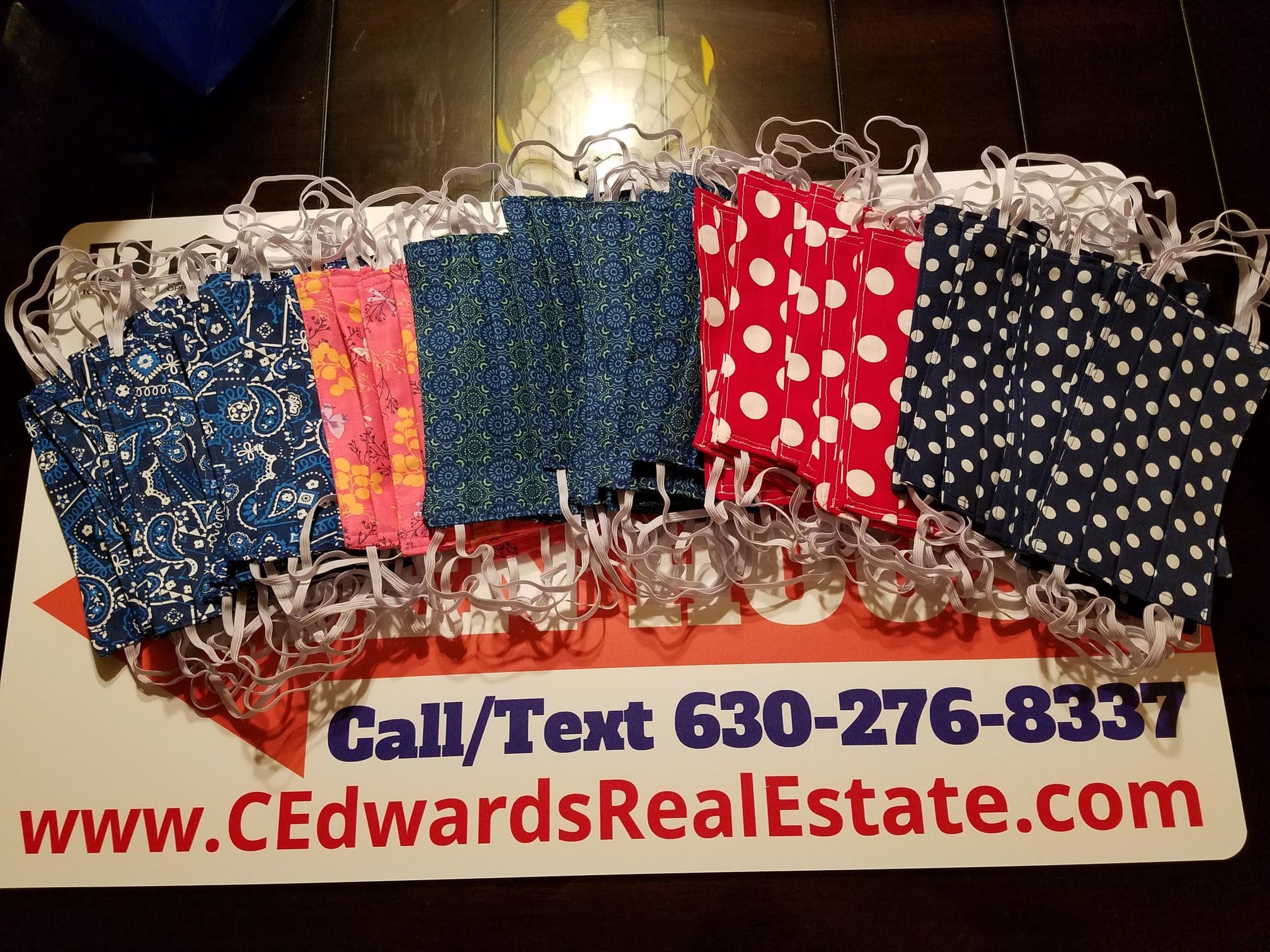 Complimentary Masks for Healthcare Workers
Complimentary Masks for Healthcare Workers
During this crisis, C Edwards Real Estate along with our family and friends have been securing supplies and sewing masks for Healthcare workers and first responders. We hope you and your family are safe and doing well during this unprecedented time we are in. We are now in the 4th week since the Stay in Place Order was initiated on March 20th 2020. Covid19 is first and foremost a human tragedy. Not only is this pandemic is infecting hundreds of thousands of people, an is affecting each and everyone of us in countless ways. Our Local, United States and Global economies are being impacted.
Inspirational Efforts during Coronavirus
Despite all the ugly side of this crisis I am continually inspired by the efforts, generosity and love people are demonstrating during these challenging times.
For example, high school students are taking the initiative to help out local families in need.
"Hi! My name is Julia and I'm a Junior at Sunset! SHS student government is hosting a drive and collecting non-perishable foods (canned foods, boxed foods, etc.) for families in need. I know that during the time of school being canceled, many students and families are not able to access regular meals without school. One-hundred percent of everything donated will go to students/families in need during this difficult time so it would be amazing if anybody could donate any extra food they have lying around the house. I would be so happy to come by and pick up anything that anyone has, just PM me and let me know! Thank you!!!" she wrote.
So far, the community has made some 400 donations, and Julia has picked up each one. They're left in brown paper bags on porches, and she handles them with latex gloves. It's all packaged food, and the packaging is cleaned with disinfectant wipes. Along with the rest of the student government, which brainstormed the idea last week, Lin is setting up distribution centers in the city so families can get what they need.
C Edwards Real Estate of Plainfield is Committed to helping keep people safe
During this crisis, C Edwards Real Estate along with our family and friends have been securing supplies and sewing masks for Healthcare workers and first responders. We are so thankful for all those who are on the front lines fighting this nasty virus and caring for those effected by Coronavirus. Praying for everyone during this Crisis. If you or a loved one is on our front lines we are motivated to help. We have been making masks for first responders(Nurses, doctors, healthcare workers, Police and Fire) or other persons that are in need of a Clean Washable mask.
If you are in need of a mask for your protection please let us know, We will be happy to share masks we have available.
Chad Edward Haug- Managing Broker/Owner of C Edwards Real Estate
The efforts to control the spread of this illness is changing our local real estate markets as well. Real estate brokerages like C Edwards Real Estate are deemed an essential service. We continue to assist our clients to safely move forward with Buying, Selling homes as well as assist clients with securing homes for rent. You can count on our 15 Years of Experience in Real Estate to reduce your risks during the process by expertly leveraging technology during the Coronavirus and allow you to buy and sell homes while observing social distancing.
C Edwards Real Estate professionals are highly skilled at leveraging technology, online marketing, virtual tours, virtual open houses, facetime, zoom, DocuSign and other tools to help our clients safely buy and sell homes during this crisis.
Be Safe and Stay Healthy. Please let us know how we can help you.
We are here to help our clients and our community, so please contact us anytime.
Helping you Move with Confidence.
Illinois Department of Public Health
Financial Help for Those Affected by Covid19