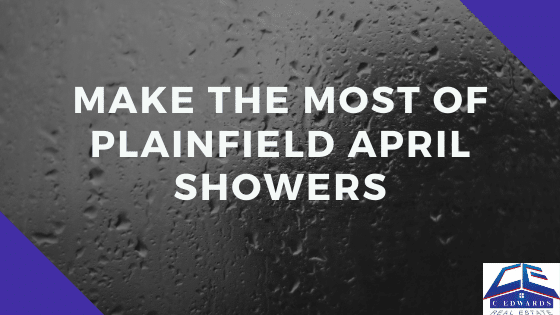 How To Make The Most Of April Showers In Plainfield
How To Make The Most Of April Showers In Plainfield
Spring is in full swing here in Plainfield and if you are like most people, you couldn't be more thrilled about that! We are here to help you Make the most of April Showers in Plainfield. Although the weather is getting better by the day, we are still subject to our fair share of rainy days during April and beyond. Don't let the rain get you down! Here are some ideas about how to make the most of April showers.
Make the Most of April Showers in Plainfield- tip #1- Get Your Garden Prepped For The Season
Looking forward to a Summer of serenity working in your garden or watching the kids play in the yard? Now is the time to get started prepping both your yard and garden. Rake up any remaining leaves leftover from last fall and pull any weeds that may be lurking. Aerate the soil and spread grass seed on the lawn to help it fill out. In the gardens, plant seeds that will flower in the summer and lay down plenty of fresh soil to nurture them. By getting all of these things done during the days when it isn't raining, the April showers will be able to have a far more positive effect on both the lawn and garden. All the more reason why you should these tasks ASAP.
Have Some Fun Around Town
Just because the weather isn't sunny doesn't mean you can't have fun here in Plainfield! Here are more ways to Make the most of April showers in Plainfield.  There are tons of local attractions you can take advantage of if you feel some cabin fever coming on. Outside of temporary "Stay at home" restrictions would have many more options.  Catch a movie, work on your bowling at Plainfield Lanes, get some family-friendly exercise at Funtopia,  or grab a book and hang out at a local Plainfield coffee shop.  Even during this Covid19 Crisis people are Enjoying nature, Gardening, Biking or walking outside, Connecting Virtually with Friends and loved ones, participating in "Drive By parades" in our vehicles to let the people we care out that we are thinking of them. Local Restaurants are still open in Drive though or curbside pickup can be an opportunity to change things up. Then bring bring your favorite food home for a Backyard Picnic with the family. Check out a few of our favorite Local Establishments like Hazel Marie's Ice Cream , Station One Smokehouse, Habanero Mexican or Macarena Tapas
Tackle That Spring Cleaning List
What better way to welcome in the warmer months and prepare for a Summer of fun in the sun than refreshing your house with a deep clean? Start by tucking away all of those Winter clothes and looking for items to clear out. This is the best time of year to host a yard sale and cash in on all that stuff that is cluttering up your home as well. It's also a great time to perform some home maintenance like changing the batteries in your smoke detector, cleaning out your gutters, and changing your air filters.
Build A Pillow Fort With The Kids
Stuck inside because of the rain? There is no need to let the rain depress you. How to make the most of April showers in Plainfield It actually sounds like the perfect time to build a good old-fashioned pillow fort with the kids! Go around the house collecting all the pillows, blankets and sheets and get cozied up in your PJs. Then assemble some snacks, board games, and movies and settle in for a perfect rainy day snuggled up together. Your kids will absolutely love this special quality time and you will create a lasting memory.
What Is Your Favorite Way To Spend A Rainy Day In Plainfield?
There are so many ways to make the most of a rainy Spring day here in Plainfield, both from home and around town. What are some of your favorite ways to enjoy a cozy rainy day? Comment below.