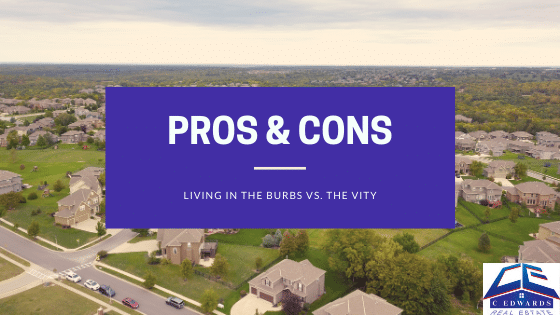 Pros & Cons Of Living In Chicago Suburbs
Pros & Cons Of Living In Chicago Suburbs
If you are looking to buy a home that will best suit your lifestyle, you are likely debating whether it will be in your best interest to buy within the Chicago city limits, or head out to the burbs. Of course, like anything, there are pros and cons to each option. As always, I want to ease the struggle of finding your dream home so today, I am outlining the biggest pros and cons of living in the Chicago suburbs.
Pros of Living in Suburbs
While there are many reasons why you may be considering a move to the suburbs of Chicago, it is important that you don't get bogged down with a never-ending list of comparisons. With that in mind, you should consider the following points as the biggest reasons why you should choose suburbia over city life.
You Get The Best Of Both Worlds
Many people worry that their life will sink into relentless boredom when they move out of the city. However, that couldn't be further from the truth. Not only are there frequent events, and plenty of ways to take in some entertainment in smaller cities like Plainfield, but if you want the excitement of the big city, it is only a short drive away. The added benefit is that you get to enjoy the peace and quiet of your extra safe neighborhood when you get home.
Less Competition For Good Jobs
There is a major myth out there that you have to go into the big cities for the best jobs. However, there are phenomenal jobs available in some Chicago suburbs. Not only that, but there is less competition for good jobs because most people look in the city for work. Translation: job security!
It Is Easier To Buy Your First Home In Plainfield Than Chicago
Obviously, Chicago has a much larger population than suburbs like Plainfield. With that larger population comes a higher demand for housing. That higher demand means it is both harder to find a home that meets your needs and the real estate is far more expensive. Not only are the listing prices higher in the city, but competition sparks bidding wards which significantly increase the final sales price of any home that is decent.
Cons of Living in Suburbs like Plainfield
Of course, there are some cons to living in the suburbs for certain people that you will also need to consider. In order to ensure you are happy in your new home, weigh these points against the benefits above.
There Is Still A Commute
While there are fantastic jobs available in the suburbs, you may not be inclined to change jobs if you already have a great one in the city. If this is the case, you will be forced to make a daily commute in and out of the city for work. Typically, this can suck an extra hour or two out of your day so be sure you are willing to sacrifice that time. However, keep in mind many people enjoy that extra time to themselves.
The Peaceful Lifestyle
Obviously, many people move to the suburbs in search of solitude. However, if you are used to being able to walk out your door and instantly be immersed in the energy of the big city, the quiet may leave you a bit bored. Keep in mind that some suburbs like Plainfield do have a bustling downtown that could offer you a similar convenience factor if you live close enough.
More Space Means More Expenses
While one of the biggest benefits of moving out to the burbs is that you can get a lot more house for your money you need to consider what all of that space will cost. Firstly, think about how much extra furniture it might take to fill all of that extra room. Furthermore, you may have higher utility costs to heat or cool all that square footage.
Want To See What Plainfield Has To Offer?
One of the best ways to get a real feel for whether or not the suburbs are for you is to head out and take a tour of the homes and neighborhoods that you are considering. I would be thrilled to take you around Plainfield and the surrounding area to experience all that the burbs have to offer you and show you homes for sale in your price range. Give me a call and let's schedule a time for a tour that works best for you.
Some of Plainfield's Most desirable Communities