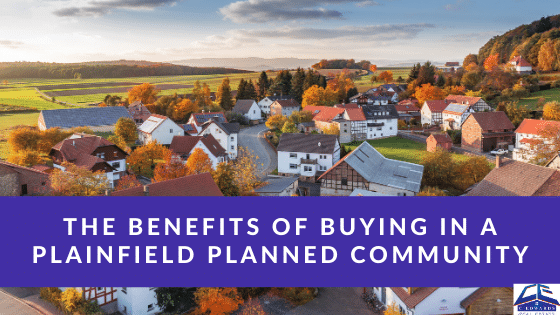 What Are The Benefits Of Buying In A Planned Community In Plainfield?
What Are The Benefits Of Buying In A Planned Community In Plainfield?
One of the best ways that you can alleviate some of the stress of buying a home in Plainfield is to narrow your search by neighborhood. Before looking for homes for sale consider weighting the benefits of Buying in a Planned Community in Plainfield. If you are like most Plainfield homebuyers, you are probably debating whether or not you would be better off buying a home in a planned community. In today's post, I will outline the various benefits of living in a Plainfield planned community so you can make an educated decision about what is best for you.
Amenities & Lifestyle
Amenities are one of the biggest draws that buying in planned community in Plainfield has to offer. These convenient amenities that turn homeownership into a more luxurious lifestyle. Although these amenities come with a price tag, they can make a majorly positive impact on the type of life you live. To give you a better idea, here are some of the common types of community amenities you will find in Plainfield:
● Fitness Center
● Whirlpool
● Playground
● Hiking & biking trails
● Baseball fields
● Basketball courts
● Volleyball courts
● Tennis courts
● Parks
As you can tell, most of these amenities will allow residents to live a more active and healthy lifestyle without ever having to leave your own neighborhood.
Safety & Security
In general, you can expect there to be more security buying in planned communities in plainfield. Most commonly, this comes in the form of a gate that is sometimes manned by a guard. This helps to prevent unwanted people from coming into the community. Furthermore, a gate cuts down on traffic making it safer to drive and safer for kids to play outside. In many cases, people will also have to apply to the board or association to become a homeowner in the community which adds even more peace of mind to who your neighbors are.
Financial Stability
Stability is a Benefits of Buying in a planned community in Plainfield. One of the biggest priorities for anyone looking to buy real estate is that they will be making a sound financial investment. Traditionally, properties within a planned community tend to hold their value or appreciate in value more than those outside the gates. If profiting off of this purchase is important to you, you should definitely look seriously at homes within Plainfield's planned communities.
Natural Surroundings
Another common benefit that many people don't realize or necessarily think of when searching for potential homes is the natural surroundings…or lack thereof. Because of laws and regulations, planned communities jump through extra hurdles during construction to make sure they don't disturb natural preserves. Buying in Planned Community in Plainfield is beautifully designed. Furthermore, they go through efforts to incorporate as much of the natural surroundings as possible to make for a far more beautiful neighborhood.
Want To Buy A Home In A Plainfield Planned Community?
I certainly wouldn't blame you for desire for buying in a planned community in Plainfield. They are beautiful. They are valuable. They are luxurious. However, there can be some extra hoops to jump through to buy one of these special homes which is why it is that much more important to hire a Plainfield Realtor that is experienced in these transactions. Not only can I show you around each of these coveted communities, but I will also explain all there is to know about each available home, the costs, and the qualities that make each neighborhood unique. Give me a call today to schedule your personal tour.
Some of my Favorite Communities in Plainfield
Shawn at Optimal Home Inpsection always does a tremendous job helping our clients with an in-depth evaluation into the home you intend to buy.