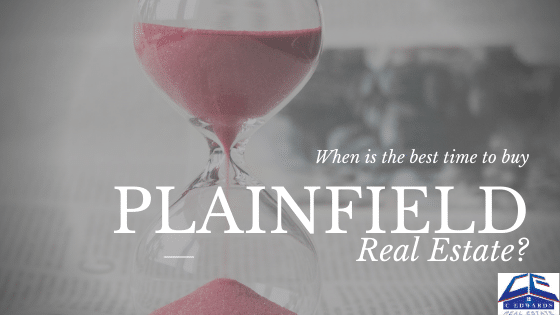 When Is The Best Time To Buy A Home In Plainfield?
Best Time To Buy A Home In Plainfield?
As a Plainfield Realtor, I get tons of questions about the current state of the real estate market.One of the most common thing I hear is "When is the best time to buy a home in Plainfield?"
The truth is there is no easy, universal answer to this question because it depends on your individual circumstances in relation to the current state of the market.
If you are thinking of buying a home in Plainfield, but want to make sure it is the right time this article is for you!
What Is Going On In Your Life- Can Determine Best Time To Buy A Home In Plainfield
Another factor to consider, when is your/the Best Time To Buy A Home In Plainfield. One of the most costly mistakes that people make when buying a home is choosing to buy at a time in their life when they have little to no stability. For example, if you are eager to leave your job as soon as possible, this is probably not the best time to buy because there will likely be a change to your debt-to-income ratio when you do. Additionally, if your marriage is rocky at the moment, you may not want to add the stress of buying and selling real estate. If you are not sure if your personal circumstances are a reason to hold off, feel free to reach out to me for an honest opinion about the implications of buying at this stage in your life.
Why Do You Want To Buy Real Estate?
A similar question that you need to consider is why you want to buy. Are you looking to begin or expand your investment portfolio? Do you want to become a homeowner for the first time to stop paying rent? Are you looking for a bigger home to accommodate your growing family? Your motivation for wanting to buy is important because it will impact the type of property you need to buy and the budget that you need to set. Additionally, your motivation for buying a home in Plainfield will require us to examine the current state of the local market and the types of properties and price points that will impact your purchase.
Buying In The Off season Has Its Perks
It should come as no surprise that most people buy a home in Plainfield and move during the late Spring and Summer months. This is because it can be easier to tour properties in the warmer weather and many families like to move when the kids are out of school. However, because there are so many more buyers in the market during these months, it makes it more competitive for you to get a good deal or get an offer accepted. If you are truly interested in getting the best possible price for your new Plainfield home, you may want to seriously consider moving during the Winter.
What Is Happening With The Plainfield Real Estate Market?
As 2019 draws to an end, we are very excited about the buying potential in the Plainfield real estate market. Not only have property values been on the rise over the last couple of years, but they show strong potential for continuing with that trend. However, despite the steady increase, homes are still very affordable and offer you more bang for your buck than larger cities like Chicago. However, like I said the best time to buy a home in Plainfield will depend on your circumstances so let's chat about your individual situation and I will make a personalized recommendation that is in your best interest for now and the long term future.