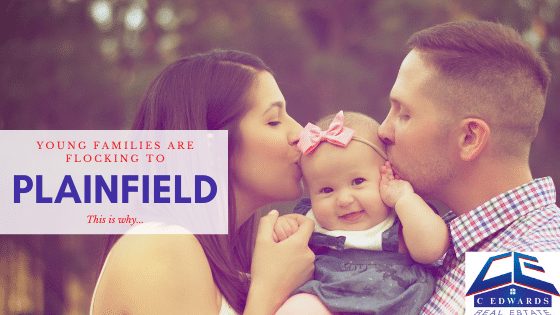 Young Families Flocking to Plainfield-This is Why
Why Are Young Families Flocking To Plainfield?
If you already live in Plainfield, you may have noticed that there are more and more young couples and families migrating to our delightful suburb. This is no coincidence either. There are a number of reasons why young families are flocking to Plainfield.  People are relocating to Plainfield from Chicago and other suburbs. Are you are curious why so many people are choosing to move to Plainfield or are looking for a Chicago suburb for your family? This article will make it clear why this is a Mecca for young families.
The Plainfield Economy Is Strong
One of the biggest reasons that any city experiences an increase in population is that the economy becomes stronger than most. Over the last few years, the Plainfield economy has been on a steady incline. Any time that you are considering a move to a new city, you should examine key indicators. You should examine the unemployment rates, median household income, and the poverty level.  Additonally, young families are flocking to Plainfield for stability. As you can see from the most recent available data below, the Plainfield economy is booming on every level:
 Median household income is $116,896 compared to $59,196 in Illinois and $55,322 nationally
Unemployment is just 3.6% compared to 5.3% in Illinois and 4.7% nationally
Poverty level is a mere 1.9% compared to 14% in Illinois and 15.1% nationally
Another Reason Young families flocking to Plainfield- Quality of life
What each of these statistics indicates is that when you live in Plainfield, you are likely to make more far more money than most people and enjoy a higher quality of life. While there are plenty of subjective reasons to move to Plainfield, these objective numbers don't lie.
More Bang For Your Buck In Plainfield
Unlike larger cities like Chicago, you will be able to get a lot more house for your money when you move to a community like Plainfield. Young families need plenty of room in their home to move around and grow. They also need to have enough money in their budget to be able to afford quality education, childcare, and an active lifestyle.
Furthermore, it is important to purchase a home that is likely to appreciate in value. Currently, the median property value in Plainfield is $252,900 which has risen by 2.2% over the last year and experts predict that values will continue to rise by 1.7% over the next year. Again, these numbers indicate that buying a home in Plainfield is a sound financial investment.
The Best Of Both Worlds
If you are anything like most people that have enjoyed the fast pace of living in a large city, you may have reservations about moving to a suburb like Plainfield. However, by moving outside the city center, you allow yourself to enjoy all of the serenity and safety of suburban living without fully sacrificing the cultural benefits of the city. Currently, the Chicago Tribune reports that the average commute from Plainfield into Chicago is only 38 minutes which is more than reasonable to have a larger house, better educational opportunities, and the peace of mind that you live in a safe city. Affordability, Accessibility, schools are just a few of the reasons young families are flocking to Plainfield.
Thinking Of Buying A Home In Plainfield?
Who can blame you?!
Not only is it a wise financial move to buy a home in Plainfield right now but it is a smart move for your family's overall health and happiness. Moving to Plainfield means better job opportunities, better educational opportunities, better crime rates, and a better lifestyle.
However, if you truly want to get the most bang for your buck, you need a Plainfield Realtor on your side to find a home that meets all of your needs, negotiate the best possible price and handle all of the legal paperwork.
To learn more about how I can help you become a Plainfield homeowner, give me a call!