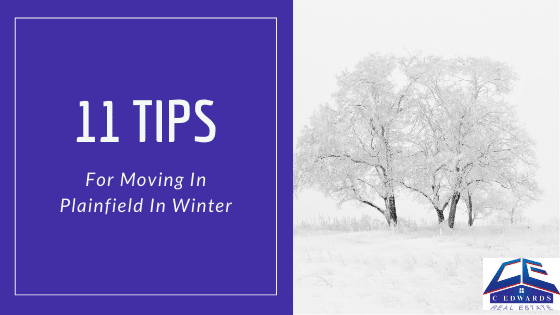 11 Tips For An Easy Move during Winter in Plainfield
Best Tips For An Easy Move During Winter
Although most people choose to buy their Plainfield home in the Summer months because they think it is an easier time to move, it is also a far more expensive time. In fact, you can save yourself a bundle if you are willing to buy and move this Winter instead. Although moving in the colder months can present some challenges, these tips will make your move a thousand times easier.
1. Easy move during winter tip- Confirm With Your Movers
During the Winter, inclement weather here in Plainfield can make it a bit challenging to choose a moving date. Do your best to keep track of the weather in the days leading up to your move. Also, call your moving company in the days before to confirm that they will still be able to provide your service on the scheduled date. The last thing you want is to wake up to your moving company being a no-show the morning of your scheduled move.
2. Protect Your Floors
Don't cause yourself a hassle and a fortune by muddying up or even ruining the floors that you just deep cleaned in your old place or your brand new home. Just imagine how upset you would be if your brand new carpet was destroyed on day one?! To prevent any accidental damage from snow, ice and mud, put down heavy-duty plastic and ask people to keep to it when walking through the house.
3.Heat Your Bathroom
Moving in the cold all day can put a real chill in your bones. If the regular heat is not on, place a space heater in your bathroom so that you can at least be warm while you do your business. Nobody likes an ice-cold toilet.
4. Board Your Pets for an Easy Move During Winter
A Friend of Mine shared one of the Best tips for an easy move during winter. We always think about how stressful moving is on us as people. However, it can be rather stressful for your pets as well! In order to make moving day easier on you and your fur babies, place them in boarding or get someone to take care of them for the day.
5. Clear The Sidewalks And Driveway Ahead Of Time
This tip for an easy move is one that is often overlooked. One of the best ways you can plan ahead and set yourself up for an easy moving day is to prep the walkways and driveway you will be using during the move. Not only will this cut down on tracking moisture and mud into the house, but it will help prevent anyone from slipping and falling.
6. Easy Move During Winter- Double Check With The Utility Companies
You're probably going to want to enjoy your first night in your new home with water, heat, and electricity. Take a few minutes in the days before your move to call your utility companies and make sure they will be turning on service in your name in the new home and turning it off in your current one.
7. Keep Towels, Blankets & Sheets Handy
If it begins to rain, sleet, or flurry your upholstered furniture, art, and electronics can become damaged going between the truck and your home. For this reason, it is a good idea to keep a bunch of extra towels, blankets, or sheets handy so you can cover them. If you don't want to use your good linens, pick some up at Goodwill that you won't mind getting ruined.
8. Heat Up The Crock-Pot
Another helpful tip for an easy move during winter. Whether there is snow on the ground or not, it is likely to be cold which can make for a long moving day. One way to heat things up is to keep a crock-pot full of warm cider or hot chocolate so that you can fight off the chill while taking breaks.
9. Easy Move during Winter – Double Wrap Your Fragile Items
Many people don't realize that fragile items like china become far more brittle when exposed to the cold. For this reason, you should invest the time to double wrap any important and fragile items to protect them in the move. Of course, you should also label those boxes as being fragile as well.
10. Nurse Your Electronics
Electronics also suffer in the cold and can be destroyed if left exposed to the cold air for too long. Not only should you wrap up your electronics to keep them safe but you should move them in a heated truck or vehicle. Aside from larger items, try to pack all of your electronics into one or two boxes so you can move them in your car.
11. Set Up Your Essentials Ahead Of Time
Finally this is the last of the best tips for an easy move during winter is essential.  Especially during and after a long day of moving in the cold, having the luxury of a fully functioning bathroom and kitchen feels like a miracle. If possible, head to your new home the day before to set up your kitchen and at least one powder room so that you can take a shower and enjoy a decent meal without stress.
Moving In The Winter Is A Great Idea! As I mentioned before, it is a very wise financial decision to move during the winter months. Not only can you score a great deal on a home in Plainfield, but you can knab up some savings on moving companies. If you are looking to buy a home in Plainfield this year, you should seriously consider doing it now before the weather and the market drive up the prices.
To learn more about how I can help you become a happy homeowner, please give me a call!

Tile, Grout, Hardwood and Carpet Cleaning